The Canadian Women's Club is pleased to also be able to assist the HIV Food Bank in their mission.
Our Members generously donated over 4 boxes of non-perishable food items to the HIV Food Bank in December 2018.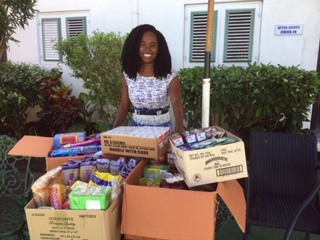 Pictured here is Stacia Whittaker from the HIV Food Bank receiving the boxes.
Stacia was very grateful for the donation and thanks CWC Members for always coming to her assistance.    She stated that the items will go towards the Christmas hampers which they give at this time of the year.
Many thanks to all of our Members who generously donated to this cause!