The Canadian Women's Club of Barbados (CWC) was founded in 1922 and comprises of a diverse group of women with connections to Canada.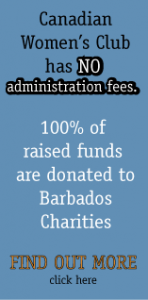 This year we are celebrating our 90th YEAR! Find out all about how we started in this document.
The objectives of the CWC are:
(1) to promote friendship among women with common ties to Canada;
(2) to promote strong ties between Canada and Barbados,
(3) to support local charities, especially those serving the needs of women or children.
From September to June the CWC holds monthly meetings which sets the stage for all to gather, either for a fun social or an informative programme.
Members receive a much sought after  monthly newsletter with all the exciting details regarding Socials, Fundraising Events and other pertinent information.
CWC welcomes new members! Click on the "Membership" tab and contact us if you would like to join this dynamic group of women. We look forward to meeting you.